Modified nationals 19 was held @ its new home Stoneligh Park, with the sun shining, the British weather was defiantly on our side for the Easter holiday weekend. As well as the parties, Hot-Rods, Camping and everything else we all expect from a Modified Nationals event and with the audio promenade was packed with over 100 cars to keep us busy all weekend.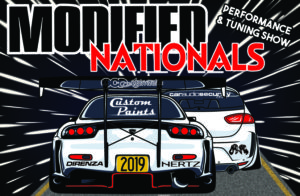 The EMMA ESPL testing bay alongside DB Contest & Propper Droppers all under one roof was a great hit and all went down well with all competitors and teams working as one. VIBE & Edge Audio proving time and time again how monstrous the Black Death HEX & Extreme Edge Subwoofers and Amplifiers are and the competitors pushing them to the limits, broken windscreens and all. Crown Customs with 3 power house systems all 160+, Tom Hall single boot sub 150s. Seeing more Females in the lanes Natasha Herrington competing for the very first time in her fresh built system with great results and actually louder than some of the bigger class systems isn't that right Arthur Herrington !!!
At the far end of the pitch stood the SQ testing area where all the sound cars were parked showing off their side of the systems, with many new faces showing the continuous growth in Sound Quality. Teams from all the top Installers in the country Platinum In Car, Highdown, Blooms & new SQ Team from Subtronics who had a great result.
The great weather was gracious to stay with us all weekend making the event run smoothly and keeping everyone is great spirits.
EMMA UK are very pleased to announce a new Partner for the 2019 season all the way from the other side of the pond USA based company Hybrid Audio Technologies, to which was quite a shock to Lee Dunstan of Hybrid UK as he knew nothing about it and was ambushed at the event into presenting the Hybrid Audio sponsored Round 1 awards on the Sunday Afternoon alongside Guest Host Ronald from EMMA Benelux.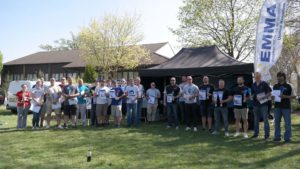 Our Next UK event will be the Donnington Double
Propper Droppers will be joining EMMA UK 13th 14th July Japfest / Trax North Donnington Park.
ESPL entry will cover both formats to register head to the EMMA UK Website.